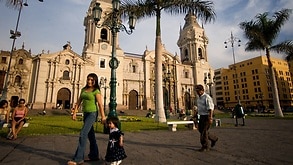 The Australian government has increased its visa places for Peruvians.The Australian government has announced a 15-fold increase in the number of working holiday visas that will be made available to people from Peru.
The announcement is part of the free trade arrangements between Australia and Peru.
Immigration Minister David Coleman said it's a recognition of enhanced bilateral ties with a country with one of the fastest growing economies in Latin America.
Currently, 100 visas (subclass 462) are available to Peruvians seeking to participate in the Work and Holiday Maker program involving 42 countries.
The places will be increased to 1500 next year on 2 February.
Minister Coleman said it is hoped the announcement will ease the pressures faced by Australian farmers looking to fill labour shortages.
"This arrangement will provide additional support to regional Australia by encouraging more workers to the areas that need them.
"While on their first visa, Peruvians may undertake specified work in regional areas to become eligible for a second Work and Holiday visa and extend their stay.
"From 1 July 2019, the option of a third-year stay will also be available to them if they undertake six months of regional work in their second year in Australia."
Under the visa, first-time applicants from Peru will need to be working towards or a recipient of a tertiary qualification.
Looking for further assistance on skill select invitations works? Book a consultation today with our experts or drop your queries at Bansal Immigration Services.